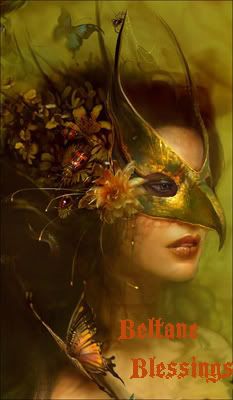 Beltane is upon us! Beltane is the last of the three spring fertility festivals, the others being Imbolc and Ostara. Beltane is the second principal Celtic festival (the other being Samhain). Celebrated approximately halfway between Vernal (spring) equinox and the midsummer (Summer Solstice). Beltane traditionally marked the arrival if summer in ancient times.
This is one of the most *romantic* Sabbats.

Beltane marks the hand fasting (wedding) of the Goddess and God, it also marks the reawakening of the earth's fertility in its fullest. This is the union between the Great Mother and her Young Consort, this coupling brings new life on earth. It is on a Spiritual level, the unifying of the Divine Masculine and the Divine Feminine to bring forth the third, consciousness. On the physical, it is the union of the Earth and Sun to bring about the fruitfulness of the growing season.
For more on Beltane,
read this article
by Christina Aubin.
Normally my family heads to the
Fairie Festival
each year to celebrate Beltane and this year was no exception, until recently.
There are still so many things I need to do before we leave for our
Disney vacation
that it is impossible for us to have an entire day to go to the festival this year. I am so sad by this. Since 2003 I have only missed this once and it was in 2005. Olivia was very sick and of course I stayed home and cared for her.
We will definitely celebrate Beltane here at home though.
This entry was posted on Wednesday, April 30, 2008 at Wednesday, April 30, 2008 and is filed under
Sabbats
. You can follow any responses to this entry through the
comments feed
.