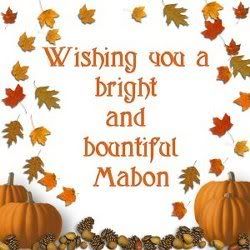 Today is the Autumn Equinox, or the first day of fall, here in the Northern hemisphere.
Today it will be equally light and dark and from this day forward, the days shall grow shorter and the nights longer.
Mabon is, what I refer to as, *The Witches' Thanksgiving* We are getting ready for the colder months ahead and we give thanks to Mother Earth for her bounty.
Here is an excellent article written about
Mabon
This entry was posted on Sunday, September 23, 2007 at Sunday, September 23, 2007 and is filed under
Sabbats
. You can follow any responses to this entry through the
comments feed
.