I completely believe in soul mates but not just in the *love* aspect.
I believe we have (possibly) more than one soul mate. There may be a very good friend, who may feel so close, like a bother or a sister to you. They may be your soul mate. Someone here in this life with you, for you and vice versa.

I am fortunate enough to actually have a soul mate who IS the love of my life. There is so much emotion when I think about him it's too much to even begin to describe at this very moment. Maybe I need more coffee to wake up? Then my writing skills might be up to par!

In any event, I just wanted to share the tattoo I got this month. His name is now tattooed on me and my name is tattooed on him. I know there's some unspoken rule about not getting anyone's name on you but (possibly) your child(ren)'s. We broke that rule and have no regrets.

Here's the tattoo; his name and an angry looking chaos dragon to go with it.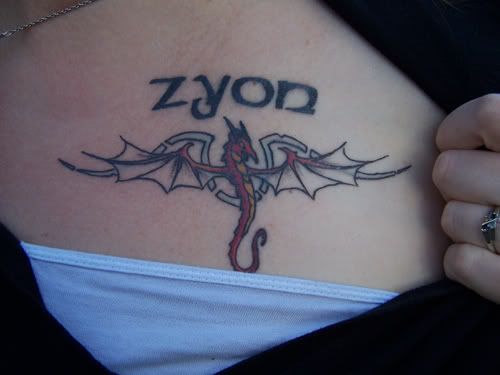 This entry was posted on Wednesday, September 26, 2007 at Wednesday, September 26, 2007 and is filed under
Relationships
. You can follow any responses to this entry through the
comments feed
.