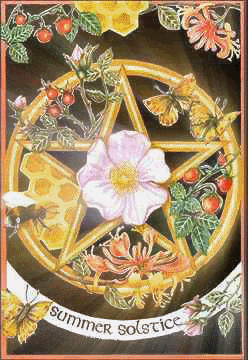 Litha is the longest day and shortest night of the year. From the moment of the Summer Solstice, the Sun immediately begins to wane.

Midsummer celebrations begin with Midsummer eve, as the Celts and many ancient groups, reckoned the beginning of day to occur at dream-time or nightfall. Through the progression of Christianity Midsummer's Eve became Saint John's Eve, but the roots of which are and were firmly planted in their Pagan origins.

Midsummer Eve is the evening of herbs. The herbs and flowers gathered this night are considered exceptionally potent. St John's wort, burdock, thorn, and nettle , harvested on Midsummer Eve are hung on doors and windows and placed around the home for protection. Houses are decorated with fennel, orpine (also know as Sedum; live forever; stone crop), St. John's Wort and birch branches. Royal Fern (Raithneach na Ri) seeds which are gathered on midsummer are said to make the possessor invisible. They who find Royal Fern blossoms on Midsummer's eve become wise, lucky, wealthy and and all around happy folk. Women wear braided circlets of clover and flowers, while men wear chaplets of oak leaves and flowers around their heads. In times past livestock were also decorated with garlands made of flowers, foliage, and oak leaves.

Read More...
This entry was posted on Saturday, June 7, 2008 at Saturday, June 07, 2008 and is filed under
Sabbats
. You can follow any responses to this entry through the
comments feed
.