Today CJ and I picked up Josh's ashes. I got a beautiful box and a very nice card from Cloud Nine Pet Services

Since CJ and I were out and about we remembered that the local Pet Smart had an adoption weekend this weekend so we went to check it out. We spent a lot of time with two local animal shelters that were at Pet Smart; Feline Finish Line and Peaceable Kingdom and well, we found 2 older kitties to give a forever home to.

Feline Finish Line had mostly kittens and I really loved two tuxedo kitties they had but CJ didn't want kittens, he wanted an older cat, which was fine but I was thinking, even though I'd love to give an old cat a home, with the 2 boys in the house, I was afraid it would do more harm than good. We agreed on adult cats and got 2 from Peaceable Kingdom.

CJ fell in love with 'Cashmere' a 2 1/2 year old female who was dropped off at the shelter in December 2008 to be spayed, the owners never came back for her and of course, never paid for the spay. She is shy and a bit skittish but I believe she will be just fine.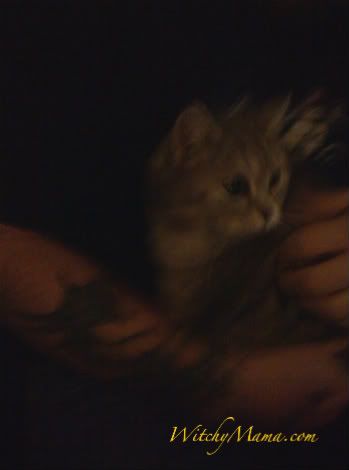 I noticed 'Jason' right away. Olivia had said she would really love an orange kitty so when I saw this guy I knew he was the one. He is an adult male. He is extremely lovable and sweet.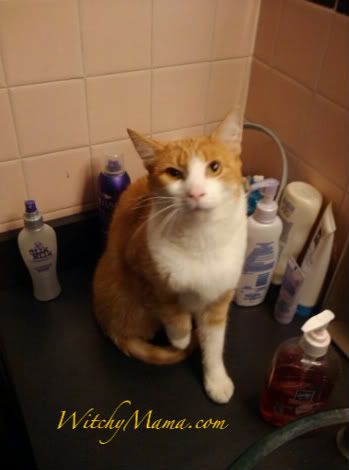 CJ renamed Cashmere "Muff" and affectionately calls her ~Puss Face~ and we agreed to rename Jason "Gary" since we all love SpongeBob and of course, Gary is the name of SpongeBob's pet snail and he meows like a cat, LOL

My favorite 'Gary' episode: Gary Takes a Bath:

This entry was posted on Saturday, November 14, 2009 at Saturday, November 14, 2009 and is filed under
Animals
. You can follow any responses to this entry through the
comments feed
.