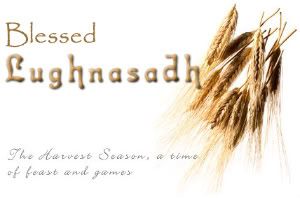 What a beautiful day I woke up to today! Blessed Lughnasadh everyone! Not sure what I have planned today but I know I will be making some Lughnasadh incense to burn on my altar.

I still haven't met up with the local group I had talked about. Life is so busy and quite frankly, I need to make a change in that.

I absolutely LOVE my job - but it takes up so much of my time that I miss out of so many things. So, I will keep going strong when it comes to work, but I will make sure I keep some time aside for myself.

Now that summer is coming to an end and the fall days are ahead, I need to start looking inside myself and focus on who I really am and let go of the negative and move forward with the positive. I hate being stuck in a rut!

What are your plans for today?
This entry was posted on Saturday, August 1, 2009 at Saturday, August 01, 2009 and is filed under
Lughnasadh
,
Sabbats
. You can follow any responses to this entry through the
comments feed
.