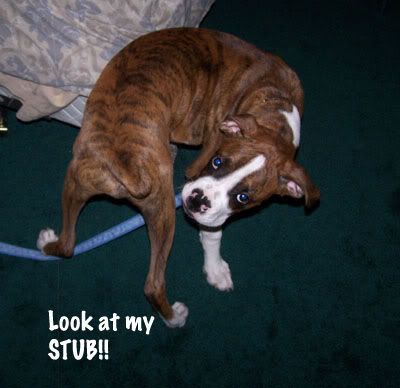 <--- This is Angus. He is a Boxer. He is our dog. He drives us batty. Last time we went away for a few days he refused to eat for a majority of that time.
I feel bad for him and I wish he wasn't like that. I can't imagine WHY he misses us so much. he is usually in trouble so he gets yelled at a lot. The kids torment play rough with him all the time, yet he actually misses us when we go away.
He isn't alone either when we're not here. My mom lives right next door to us so she watches him and spends a great deal of time with him.
Since my mom is going with us on our Walt Disney World vacation, her boyfriend, Frank, will be staying at her house to care for her dog and to care for Angus.
I hope things go better this time.
This entry was posted on Wednesday, May 7, 2008 at Wednesday, May 07, 2008 and is filed under
Angus
,
Animals
. You can follow any responses to this entry through the
comments feed
.